kegilaan cite korea yg melanda kat pc aku...abis aku tinggalkan mcm2 keja demi marathon cite nie..due2 cite nie..die punye overall plot..adelah same..pasal perkahwinan yg bukan atas dasar cinta..hahah..satu tu pasal arranged marriaged..satu agi pasal..kawin kontrak..
Full HouSe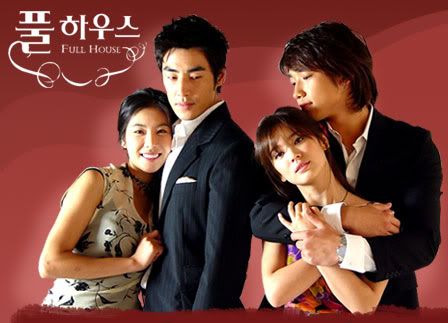 Main actor n actress
1. Jeong Ji-hoon aka Rain as Lee Young-Jae
2. Song Hye Kyo as Han Ji-Eun
3. Kim Sung-su as Yu Min-hyuk
4. Han Eun-jung as Gang Hye Won
Synopsis
Originally a manhwa, Full House is given live action in a KBS' drama production starring Song Hye Gyo and Jung Ji-hoon (Bi). Swindled by her friends, internet-story writer Han Ji-eun (Song Hye Gyo) seeks movie star Lee Young-jae's (Jung Ji-hoon) help after becoming indebted to him and learning he is the new owner of her house and living there. They agree to have Ji-eun live with Young-jae while she cooks and cleans for him to pay her debt. Unable to live peacefully, they continuously fight and annoy each other. Then his childhood friend, Hye-won (Han Eun Jung) learns of his love for her, and she believes he is the reason their friend, Min-hook, rejects her love. When Hye-won confronts him, Young-jae lies and instead confesses a love for Ji-eun and launches a scandal. Young-jae and Ji-eun agree to continue the façade and enters into a contract marriage; Young-jae hopes to make Hye-won jealous and win her love while Ji-eun hopes to regain possession of her house. As an unlikely pair from first meeting, Young-jae and Ji-eun gets themselves in to a situation for which neither is prepared
URL
1.
http://xotcho.free.fr/go/2005/02/24/151-full-house#com
2.
http://www.d1mae.devisland.net/fullhouse/fullhouseplot.html

SwEeT 18


Main actor n actress
1. Lee Dong Gun as Hyuk Joon
2. Han Ji-Hye as Yoon Jung-sook
Synopsis
The concept of an arranged marriage is often difficult to accept, especially amongst less traditional adolescents today. Sweet 18 (Nang Rang 18 Seh) covers this very premise and the story begins when Kwon Hyuk-joon's grandfather, the head of the traditional Kwon family agrees to an arranged marriage between his grandson (Lee Dong Gun) and Yoon Jung-sook (Han Ji Hye) when Yoon Jung-sook is born. 18 years later, the two families lose contact because soon after the contract is signed, Jung-sook's family encounters financial issues and is forced to run away.
Meanwhile, Jung-sook has grown up to be a rebellious and strong-willed girl who just wants to live her life as she sees fit. With little aspirations, she is the direct foil of her achievement-bound counterpart, Hyuk-joon. When the two meet each other, they clash horribly; Jung-sook thinks her fiancee is nothing but boring, and Hyuk-joon believes Jung-sook to be nothing but an immature child. The rest of the series follows their life living together as a couple, and the obstacles they are faced with. When Hyuk-joon's first love reappears and wants to claim Hyuk-joon for herself (despite the fact that he's married), who will Hyuk-joon choose? His first love Ga-young, or immature spunky Jung-sook?
anyway..ost cite
full house
mmg best...
Sweet 18
punye lak..lagu nye leh tahan..tp cite nie kurang gune lagu background for certain2 scene yg aku rasa perlu ade bground music..:P..papehal pun..byk agi cite korea menanti...pasni nak try tgk the nymph n the con artist plus love story in harvard (though aku rase cite nie lembap..tp try gak aa tgk..)