aku sebenarnye mcm dah lost track ngan tarikh2 menda2 nie sume..so aku just cite jelaa mende2 yg menarik terjadi sepanjang bulan mac n april..(bile tgh tensen nie..aku terasa je nak kembali ke masa yg lepas..)
from tronoh to klcc
pada pagi jumaat di awal bulan april..aku ikut rombongan lawatan sambil belajar ke klcc..miahahah..actually under kelas seminar..hurm..the main purpose >> nak gain info on how PETRONAS wat their own Knowledge Management System..okay..tujuan program mmg mencapai matlamat..aaa..tp kena wat report tu...haha..bijak sungguh lecturer ku..kebetulan skoler masuk ari tu..rm1500..:p seronok gile..siap makan nandos..nak shopping..tp tetibe ari tu blur nak beli ape (biar benar nadia nie)..hehe..overall best..release skit tensen..siap belaja men poker dlm bas..thanx sifu..ajar aku men poker..
midnite n karoks lagi??
heh..name pun duit tgh byk..pastu baru setel edx plak tu...so aku pun joinlaa dak2 junior yg men DOTA gi kuar midnite..due kali midnite..due2 ari sabtu..hahah..first one..kitorg ber6 naik wira..tgk cite be cool..best2..tp mase balik lak terjadi kejadian yg mencuakkan aku..walaupun aku cam dah agak dah benda tu nak jd..nway..abaikan..benda dah setel..the next outing..kuar 10 org..tgk the pacifier..kali nie cam dah arrange..soo..tadeklaa kelam kabut..ermm..pas midnite yg tu..sempat gi karoks..adelaa dlm 2 jam melalak..duit kuar cam air gaklaa ari tu..:P
jalan2 cari makan
bosan asik makan kat tpt yg sama..so..aku ajak kawan aku makan kat BCC..Black Canyon Coffee kot..first impression..the ambiance is ok..rase damai je tpt die..waitress die ade yg kureng..tp leh dimaafkan lagi..food die?? hurm..sedap gak aaa..aku mmg kenyang gile sbb makan fried rice in omellete (nasi pattaya)..sbb nasi die cam pulut..hohoh..price?? cukuplaa kalo aku katakan..sebulan skali leh laa lepak sini..:P ade skit gamba masa makan2 tu..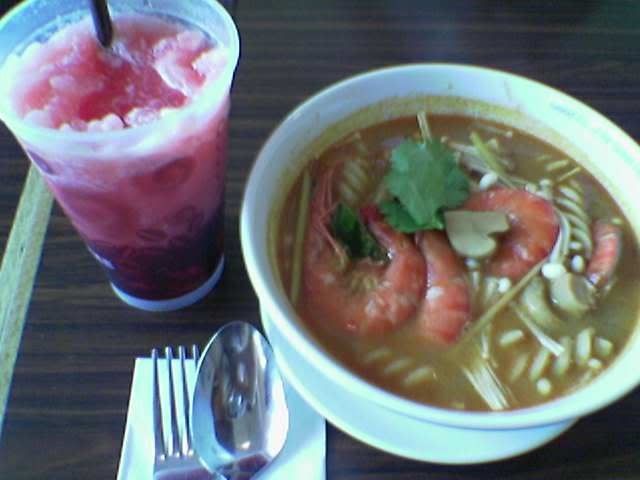 tomyam udang ngan watermelon blended..hoho..tetibe terasa lapar..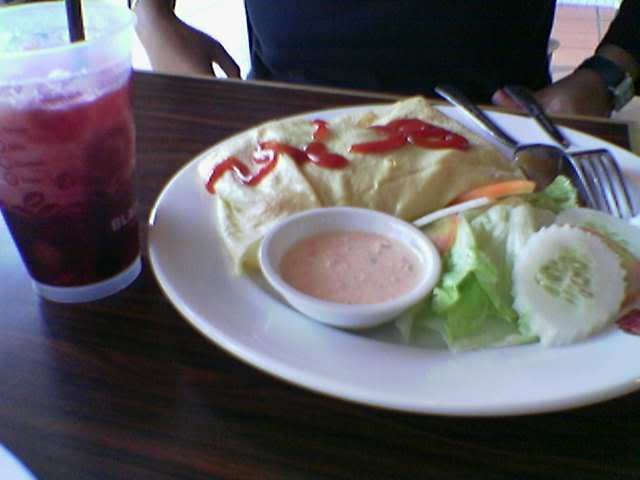 nasi pattaya..nyum2..harga die rm 8++ kot..
jatuh cinta..erk..
kejadian berlaku di suatu keramaian..hahah..tp aku cam tak amik peduli sgt..for me..there's no such thing as love at the first sight..anyway..ske laa tgk mamat tu..die kewl je..walaupun kekadang cam kelaka..n then..bile dah start kenal die..aaa..baru ade terasa dup dap dup dap tu..dem jek..nway..memandangkan die cam mude setahun dr aku..aku rasa aku abaikan jelaa ape yg aku rasa nie..ske sumthing..tak semestinye kena dptkan gak mende tu..kalo aku rajin..aku wat laa keja gile yg bername

confession

..lol...